Status: 01/15/2021 06:00 am
Talk about an epic, deal about the fascination of language; Literary travel around the world and a huge project – all this in 21 episodes of the literary podcast eat.READ.sleep.
Nina George's bestseller "The Lavender Room" inspired Jan to create a Provençal soup – a perfect winter meal. The reading material in this episode is varied: a book on artificial languages, a literary travel guide, an introduction to the works of Marcel Proust, and a love letter to England.
Books in this series
Anne Weber: "Annette, A Heroine Epic" (Mathes and Seitz)
Nelle Polatschek: "Dear Oxbridge: A Love Letter to England" (Galliani-Berlin)
Clemens J. Seitz: "The Bee and the Invisible" (Suhrkamp)
Nina George: "The Lavender Room" (Naur)
Christophe Ransmeyer: "Atlas of an anxious man" (S. Fisher)
Alain de Botton: "How Praust Can Change Your Life" (S. Fisher)
Jochen Schmidt: "Schmidt Reads Proust" (Volland and Quist Verlag)
Tip from Nina George: By "The Friend". Sigrid NunezFrom the American by Annette Grubb (Aufbau Verlag).
Marcel Proust notes online
The RBB Podcast: "Reading Marcel Proust."In search of lost time"
And Proust's entire mammoth project can be found here.
Soup au pistachio recipe from "Lavender Room".
Ingredients for 4 people:
1 dose White bean kernels
200 grams the carrot
250 grams zucchini
1 rod Pori
500 grams potatoes
1 onion
4 tomato
200 grams green beans
Your 2-4 Zweige Rosemary
For the herb paste:
2-3 cloves of garlic
½ teaspoon thick salt
3-4 pots mint
50 grams fresher Cheese made in Parma
5 d olive oil
Preparation: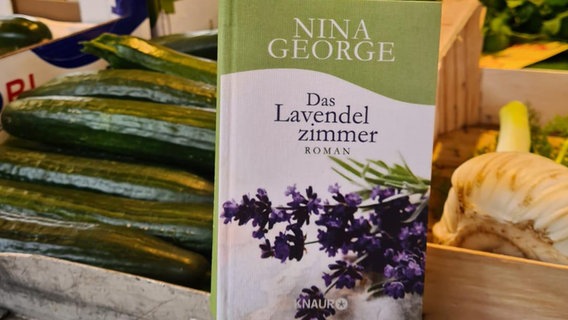 The soup recipe can be found in the novel "The Lavender Room" by Nina George.
Cut vegetables into slices, rings and cubes. Drain the tomatoes in hot water, peel them and cut them into pieces. Heat oil in a large saucepan, add vegetables and herbs and fry for 10 minutes on low heat. Salt.
Add the beans and 1 ½ to 2 liters of water and simmer covered for 30-45 minutes. Season with salt and pepper.
For the herb paste, peel the garlic, chop it in a blender with salt, basil leaves and parmesan. Stir in olive oil.
Pour some of the paste into a soup bowl, then fill it with soup. Bon appetit!
He knelt before him and fed him Provençal pistachios; She went with the dish by spooning the garlic-basil-almond paste directly into the cup and poured the clear, hearty vegetable soup over it. He smiled at her between sips. […] And the spoon. And the spoon. And… right… on the spoon.
"Lavender Room"
Feedback, suggestions and ideas? Bring it on!
Anyone wishing to provide feedback or name their own favorite book can reach the three hosts by e-mail eatreadsleep@ndr.de. The podcast is published every 14 Fridays at 6am and runs as a joint project under the NDR umbrella brand – you can listen and subscribe here – or ARD-Audiotheque.